Whether it's dragging teams kicking and screaming over the finish line, or driving forward in perfect harmony (more or less!), we have partnered with hundreds of bid teams in the last nine years – and seen it all.
The good bid team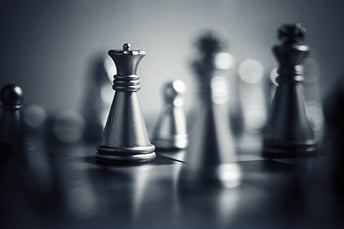 ...is invested in the bid – personally and professionally. They really want to be there. The reasons for this could be knowledge and pride in their team or an understanding that without this win, the business might go under. Whatever their motivation, it makes a better bid if everyone is committed to winning.
… puts real brain power into the bid. They're prepared to do some heavy lifting because a winning team knows that bidding is where innovation comes to life.
… respects one another. There is no such thing as a single bid winning leader that carries everyone. Every team member has a critical role to play.
…speaks clearly to the client and shows how they will meet the client's needs. Winning bids are built on clarity of vision and a distinct offer – and the team has to communicate like this at all times.
… sees the benefits the bid could bring to the whole company. It's the big picture that drives them.
… is ambitious and determined to beat the competition. There's no room for complacency.
… listens and learns from one another. This is how you grow as a company and develop a shared vision.
… lives to fight another day, even when they don't win. As Nelson Mandela once said, "I never lose, I either win or learn."
The bad bid team…
… wants to do a copy and paste bid. You can't ever produce compelling bid content from a library of prepared copy and examples. Each bid is bespoke. You can take lessons from one bid to the next - but you can't transfer content.
… thinks the details, from case studies to pricing, are someone else's job. Everyone's busy and only a handful of businesses have the luxury of a dedicated work winning team. So roll your sleeves up and get stuck in.
… doesn't keep an eye on the competition. Yours is not the only company that wants this work – and others are likely to be hungrier for it and better organised.
… doesn't listen to the client, us or any other advisors. Bad bid teams are not open to learning or new ideas. They think they know it all.
The ugly bid team
…can't agree on a bid strategy. This leads to an inconsistent bid that makes it look like your company is all over the place. It does more harm than good.
… disrespects the client. A half-hearted, cut-and-paste bids shows you don't really want their work and aren't bothered what they think.
So how do you motivate your bid team?
Explain to the team why you are going for this bid – what it means for the company, and the implications of not getting it. Make sure they really buy into the bid.
Tell team members why they are working on the bid – it might be knowledge of that particular client, sector or their area of expertise. Give them a clear understanding of their role.
Set out some golden rules – bid discussions can be challenging and team members often have opposing views of what's best for this bid and for the direction of the company. Learn to listen, respect your differences, reach a shared decision – and move on. You have bigger things to worry about…
Focus on your competitors. Don't go into a bid without a good understanding of what they are good at, what their current thinking is and how you are going to beat it. That shapes all the discussions in your Bid War Room.
Even under pressure, remember to recognise your colleagues' efforts – including the leader. Support one another - it costs nothing, but means a lot.
And when the bid is safely in, have a team celebration – and a bigger one when you win it!
Find out 'How to win Government Contracts in the UK 2017' with our eBook.