If you're too busy to read our fabulous e-book, 'How to Win Government Contracts in the UK 2017', here's a five-minute summary.
Selling to the government is challenging - but it's do-able with the right preparation and a systematic approach. And there's a big prize at the end of it. Government expenditure on procurement in 2013/14 was £242 billion. That means that there is plenty of business to go round.

And it's not just for the big companies. Government is committed to spending 33 per cent of its budget with Small and Medium Enterprises (SMEs) by 2020.
Our e-book tells you:
How the public procurement process works
How to use intelligence to find the best opportunities before others
How to create your own bidding master plan
How to score maximum points for your bid
Understanding the basics of competing in the UK
Knowing the rules of public procurement helps you to make better bid strategy decisions. You don't need to read every detail but should know enough about the regulations and procedures to prepare yourself for what the government buyer - or Contracting Authority - expects from you during the process.
The legal framework
UK procurement law is based on European statutes. We will still be subject to European Union (EU) law until the date at which we leave it, likely to be in March 2019. Even then, wholesale change is unlikely in the short-to- medium term. The rules and regulations have been developed over many years of good practice, so it's doubtful they'll be ripped up even after we leave the EU.

Under existing regulations, all public bodies are required to advertise contracts above specific thresholds in the Official Journal of the European Union (OJEU), published across Europe.
| | | | |
| --- | --- | --- | --- |
| OJEU | Supplies | Services | Works |
| Central Government | £106,047 | £106,047 | £4,104,394 |
| Local Government | £164,176 | £164,176 | £4,104,394 |
UK domestic procurement priorities
The UK government has committed that three per cent of all its spending will go to SMEs by 2020. The target covers direct contracts with SMEs and spending that reaches them indirectly, for example, a supplier to the main contractor who holds a government contract.

Recent changes in the regulations also make it easier for SMEs to compete. For example, for low-value contracts, Pre-Qualification Questionnaires (PQQs) have been scrapped. A simplified Standard Selection Questionnaire (SSQ) replaces them on above-threshold procurements.

Prompt payment terms are now mandated for government and on public procurement supply chains - which means paying suppliers on time.
The procurement process
These are the formal stages of the procurement.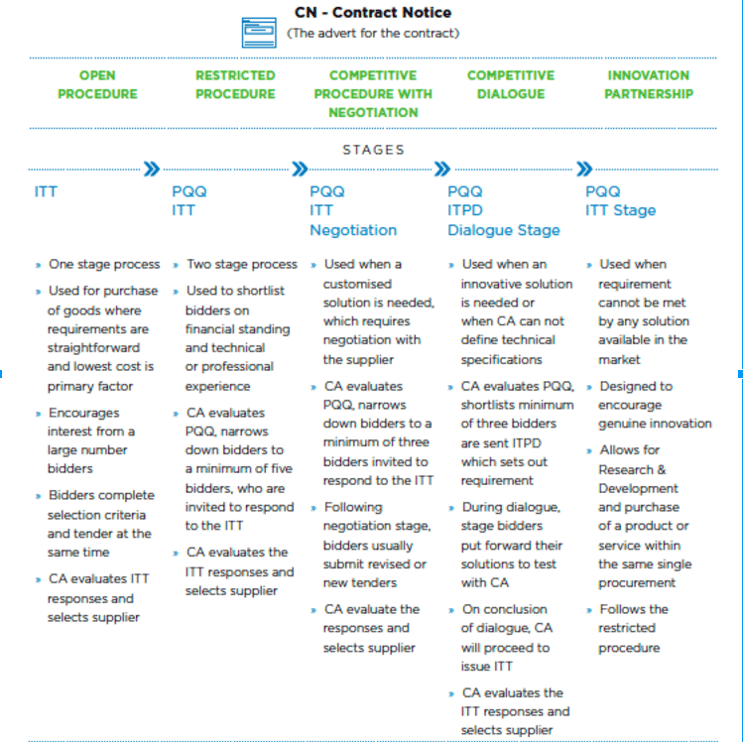 The first time you work through it is the worst!
Chapter 2: Getting access to the best opportunities
There are over 1600 websites publishing UK-based contract opportunities. Some are free to use, others charge for providing an enhanced service. Most portals require you to set up an account and create a profile, matching available opportunities to your areas of interest – a bit like a dating site!

Finding opportunities before the competition

If the first time you come across an opportunity is when you see it on a portal or alert, it's probably too late. The only exception is a Prior Information Notice for a Contracting Authority carrying out soft market testing - seeking views from the market before procuring.

Government policy requires public bodies to operate an open door for current and potential suppliers to discuss upcoming procurement opportunities. Raise your profile well in advance of an opportunity so that the buyer is aware of you. Make it part of your business development strategy and invest a decent amount of time in it.
What you can do
Identify your hit list of top 10 buyers you want to do business with and start building a relationship with them
Approach them at quieter times and not in the middle of a major procurement, when they'll be too busy to engage
Do your research before you meet them. Find out more about the organisation – their challenges, priorities and pain points
Don't pitch them - find a problem you can help solve for them and use this to demonstrate ideas, products, and solutions
Attend their pre-market engagement events e.g. supplier days, industry days and bootcamps
Participate in soft market testing, consultation exercises and feedback surveys they put out.
Consultants and advisors
Authorities retain consultants to advise them on everything from tax compliance to energy efficiency. These 'outside insiders' are brought in to advise as part of the client team at an early stage. They have insights on what's important to the Authority, where it's heading and the upcoming opportunities.
Find out who is on the client's team or which consultants or advisors in your industry are aligned to an authority.
Industry events and gatherings
Attending industry events and gatherings is an effective way to raise your profile and mingle with buyers. There are many types of events but these are the most beneficial for bidding:
Meet the buyer - one or more buyers showcase their upcoming opportunities and connect with suppliers. There are many formats including one-to- one slots. They are great for networking and relationship building
Trade shows – industry specific, attract a range of buyers, suppliers and consultants. You can gain broad exposure by hiring an exhibition stand and working the floor
Conferences and award shows – a learning event and a chance to pat each other on the back. Raise your profile by sponsoring an award or table or offering to speak.
Who are the big spenders in government on procurement?
According to HM Treasury, the UK public sector spent a total of £242 billion on the procurement of goods and services in 2013/14. This accounted for 33 per cent of public sector spending.

The National Audit Office estimates £187 million was spent with private sector providers, comprising central government spend of £40 billion and NHS, local government and devolved administrations accounting for a further £147 billion.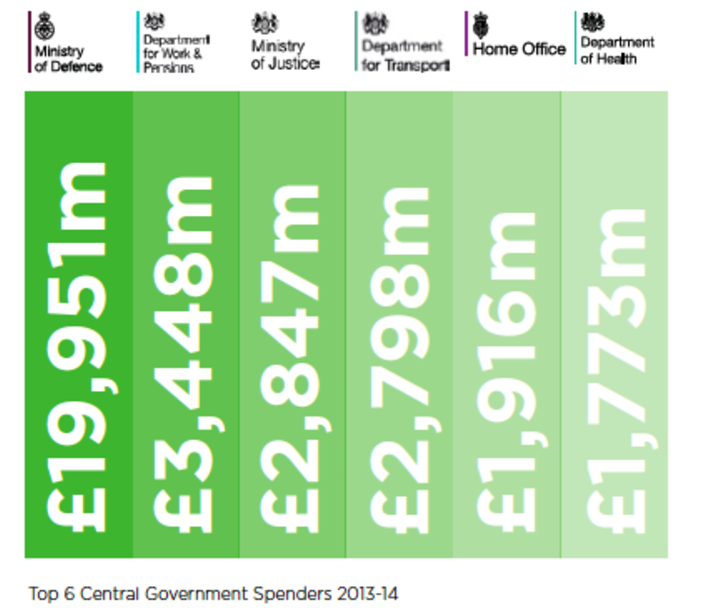 Chapter 3: The winning masterplan
Follow our masterplan to develop a winning proposal.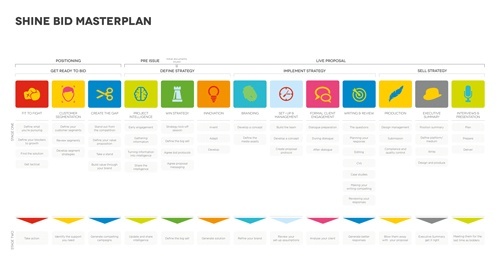 Chapter 4: About Shine Bid
We've won over £6bn of business for our clients, including securing places on major government frameworks.
That's an overview of our approach to winning government contracts. You'll find more details in our e-book. Download a full copy here and let us know how it transforms your business.
Margaret Quinn | Bid Writer | Shine Bid Services
Other Associated Blogs from Shine