---
Interesting Times
There has never been a more interesting and exciting time to be bidding for government work in the UK.
There has never been so much uncertainty, confusion, and chaos before either.
Winning government contracts is getting tougher for the established players and even harder for new entrants. Selling to the government is a different ball-game to responding to a straightforward B2B Request for a Proposal (RFP). First, you need to overcome a few hurdles to get to bid, then you must be prepared to compete on their terms.
This guide is designed to help you win work with government and public sector buyers. By applying the principles in this is eBook you will learn to navigate the UK public procurement landscape successfully, and the best opportunities before others, develop a winning bid strategy, and improve your success rate for government/public sector contracts.
IS THIS EBOOK RIGHT FOR YOU?
If you operate in a highly commoditised marketplace, where price is the primary deciding factor, then this eBook is not for you.
This eBook is aimed at bidders who compete on differentiation, quality, and other factors as well as price.
How to Win Government Contracts in the UK 2017 - Essential reading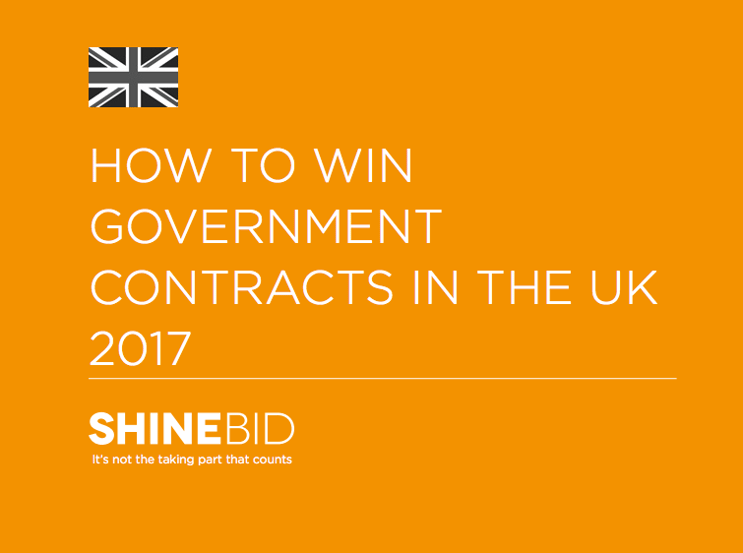 THIS EBOOK COVERS
How the public procurement process works

How to use intelligence to and the best opportunities before others

How to create your own Bidding Masterplan

How to score maximum points for your bid
The ebook was written by Shine Bid Services after being asked repeatedly for clarification of the processes involved by clients from all sectors.
---
Brexit Impact
Experts predict that when the UK leaves the EU, the impact on public procurement is likely to be minimal. Making wholesale changes is complicated, time-consuming, disruptive and most probably a low priority for the government. If the UK stays within the single market, it continues to adhere to the EU procurement laws. If it leaves, then the UK's regulations would need to be modified or replace with something similar.
Get your free copy of the ebook today.
---