…Because in 2013/14 the UK government spent £242 billion procuring goods and services. That is a lot of money in anyone's book and enough to keep plenty of businesses going - even in an age of austerity.

Bidding for government contracts is more straightforward than it used to be. But it requires a completely different approach from a private sector proposal. Our e-book, 'How to win government contracts in the UK 2017', is a great starting point and you can download it from our website.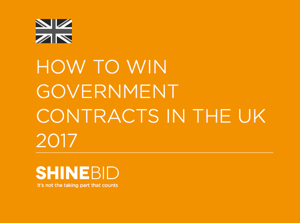 It's a guide to navigating the minefield of public procurement. It covers the basics of bidding to government departments and local authorities. There's a glossary of terms, and an overview of the different stages and types of procurement.

We include tips on how to get ahead and find out about opportunities before they officially come to market – giving you the chance to get involved in the client's pre-market engagement, ahead of preparing tender documents, and more time to prepare a stronger bid.

You'll find a table of the biggest spending departments and some practical ideas to help you drill down and identify your target clients in the public sector to secure growth for your business, and we include framework opportunities, which give you access to pipelines of work for years to come. These are opportunities that will be closed to you if you're not on the framework – and they'll definitely be closed if you don't even bid!

Finally, we include our Bid Masterplan©, showing you how to develop a distinctive and winning strategy, step-by- step.
Get your copy of 'How to Win Government Contracts in the UK 2017' today.

We have won over £7 billion pounds worth of business for our clients and a significant proportion of that is from public sector organisations. With our help to guide you through it, it's well worth looking into UK government contracts.
Peter Richardson | Head of Marketing | Shine Bid Services
April '17
Other articles
We also have an ebook for companies looking toward opportunities in the US government contract market